CABIN  WOODS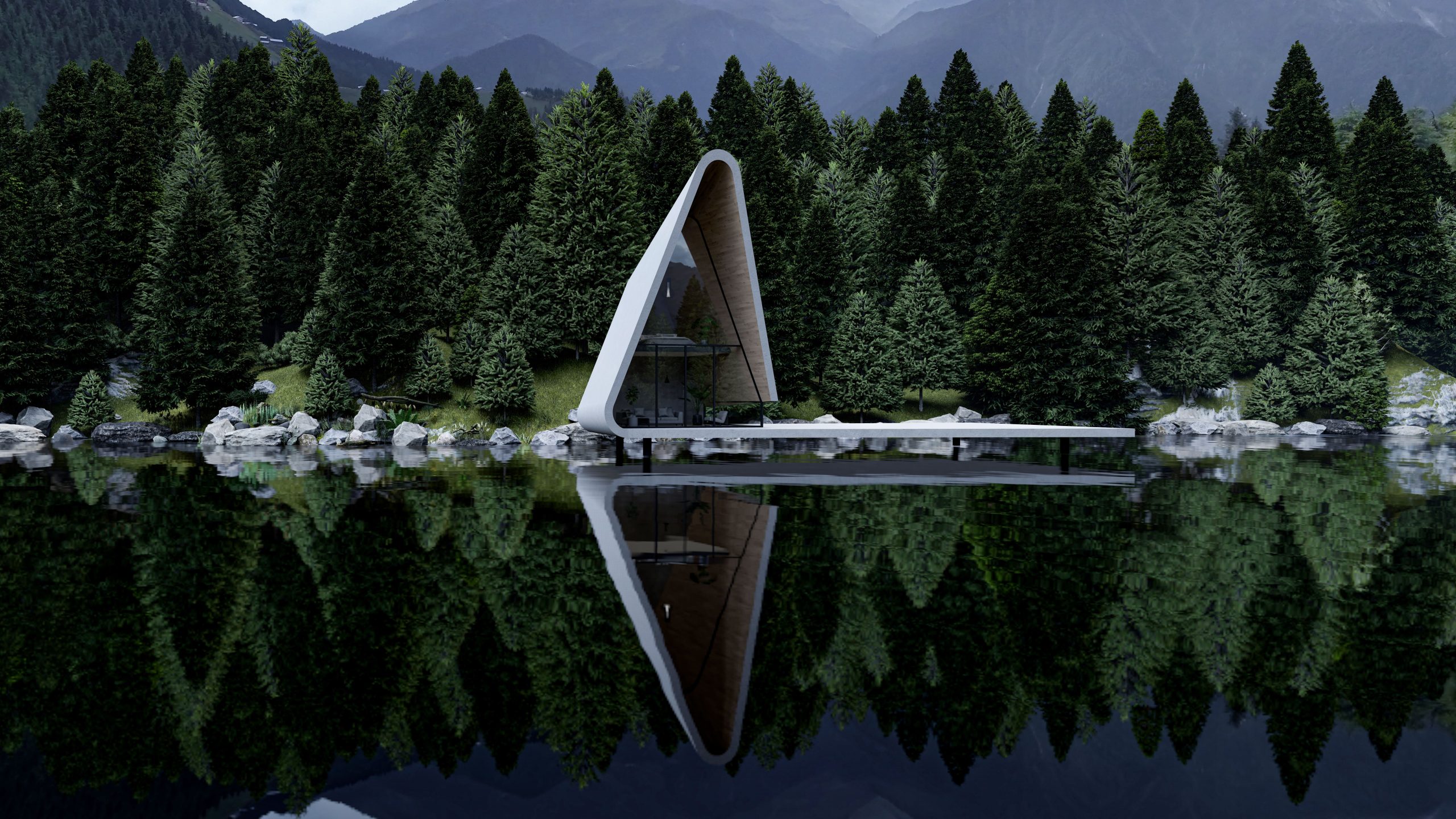 project: CABIN x WOODS
status: ID (in development)
program: housing
NL De cabin kijkt uit over een prachtig meer, waardoor het de perfecte plek is om weg te komen.
De relatie met de natuurlijke omgeving van de cabin is de sleutel, het laat de gebruikers verenigen met de natuur.
De cabin weerspiegelt de verbinding met de natuur.
Bij binnenkomst valt het uitzicht vanaf de grote glazen gevel op over het meer. Binnen in de cabin is een slaapverdieping en een woongedeelte, allemaal met de verbinding naar de buiten. De cabin maakt voornamelijk gebruik van natuurlijk licht.
De vorm van de hut komt voort uit de omringende dennebomen. Het heeft een minimalistische, maar heldere vorm. De vloeiende vorm sluit aan op de omgeving, het zweeft boven het meer. 
De cabin is ontworpen voor diegenen die de drukte van het dagelijks leven willen verlaten om zich te verstoppen in een comfortabele cabin en een blik op de wereld te krijgen vanuit een nieuw perspectief.
De cabin is gemaakt van duurzame materialen. Het interieur is grotendeels met hout afgewerkt, waardoor een warme en gezellige ruimte is ontstaan. De ruimte voegt een gevoel van rust en ontspanning toe. 
ENG  The cabin oversees a beautiful lake making it the perfect place to get away.
The relationship with the cabins natural environment is key, it let's it users unify with nature. The cabin reflects the connection with nature. When entering, the view from the large glass facade catches the eye looking over the lake.
Inside the cabin is a bedroom floor and a living area, all with the connection to the outside space. The cabin uses mostly natural lightning.
The shape of the cabin emerges from it's surrounding pine trees. It has a minimalistic, but clear shape. The fluid shape connects with the environment, it is floating above the lake.
The cabin is designed for those who want to leave the hustle of everyday life to hide in a comfortable cabin and get a view from the world from a new perspective.
The cabin is made of sustainable building materials. The interior is finished with mostly wood, creating a warm and cozy space. The space adds a sense of calm and relaxation.