CABIN  WOODS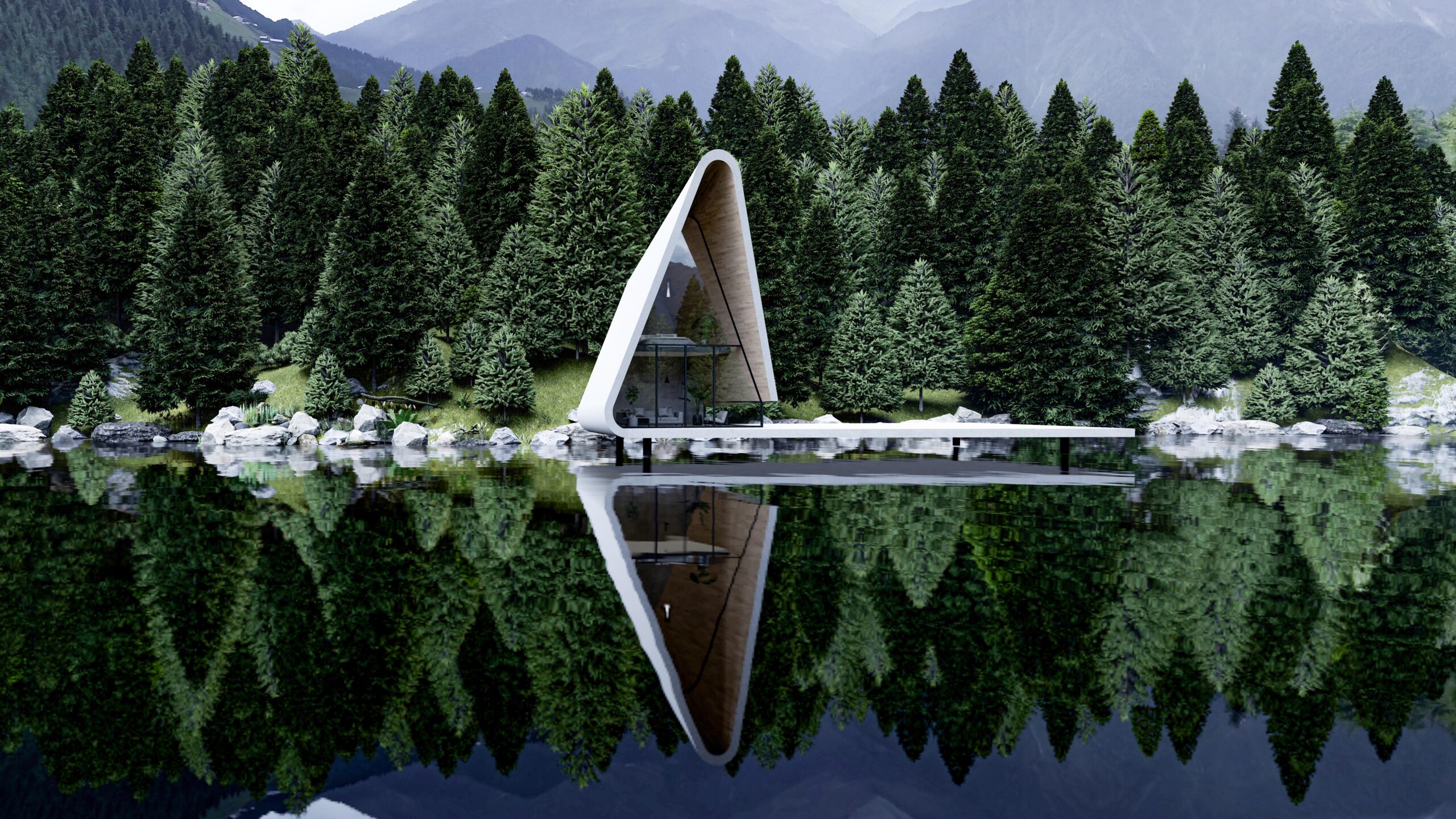 project: CABIN x WOODS
status: ID (in development)
program: housing
NL 
De cabin biedt een prachtig uitzicht over een meer, waardoor het de perfecte plek is om te ontsnappen aan de dagelijkse sleur. De relatie met de natuurlijke omgeving staat centraal in het ontwerp, waardoor gebruikers één kunnen worden met de natuur. De cabin weerspiegelt de verbondenheid met de omringende natuur.
Bij het betreden van de cabin valt meteen het adembenemende uitzicht op het meer op, dankzij de grote glazen gevel. Binnenin de cabin bevinden zich een slaapverdieping en een leefruimte, beide met een sterke connectie naar buiten. Natuurlijk licht speelt een belangrijke rol in de ruimte. De vorm van de cabin is geïnspireerd door de omliggende dennenbomen. Het heeft een minimalistisch ontwerp met heldere lijnen. De vloeiende vorm past perfect in de omgeving, als een zwevende oase boven het meer.
De cabin is ontworpen voor diegenen die willen ontsnappen aan de drukte van het dagelijks leven en zich willen terugtrekken in een comfortabele cabin, om de wereld te aanschouwen vanuit een nieuw perspectief.
Duurzaamheid staat centraal bij de bouw van de cabin, waarbij gebruik wordt gemaakt van hoogwaardige en milieuvriendelijke materialen. Het interieur is grotendeels afgewerkt met hout, waardoor een warme en gezellige sfeer ontstaat. De ruimte straalt rust en ontspanning uit, waardoor gebruikers zich direct op hun gemak voelen.
ENG  
The cabin offers a stunning view over a lake, making it the perfect place to escape from the daily routine. The connection with the natural surroundings is central to the design, allowing users to become one with nature. The cabin reflects the harmony with the surrounding environment.
Upon entering the cabin, the breathtaking view of the lake immediately captivates, thanks to the large glass facade. Inside the cabin, there is a sleeping area and a living space, both with a strong connection to the outdoors. Natural light plays a vital role in the space. The shape of the cabin emerges from the surrounding pine trees. It features a minimalist design with clean lines. The flowing form seamlessly integrates into the environment, like a floating oasis above the lake.
The cabin is designed for those who seek to escape the hustle and bustle of daily life and retreat into a comfortable cabin to experience the world from a new perspective.
Sustainability is a core focus in the construction of the cabin, utilizing high-quality and environmentally friendly materials. The interior is predominantly finished with wood, creating a warm and cozy atmosphere. The space emanates tranquility and relaxation, instantly putting users at ease.