HOUSE  OM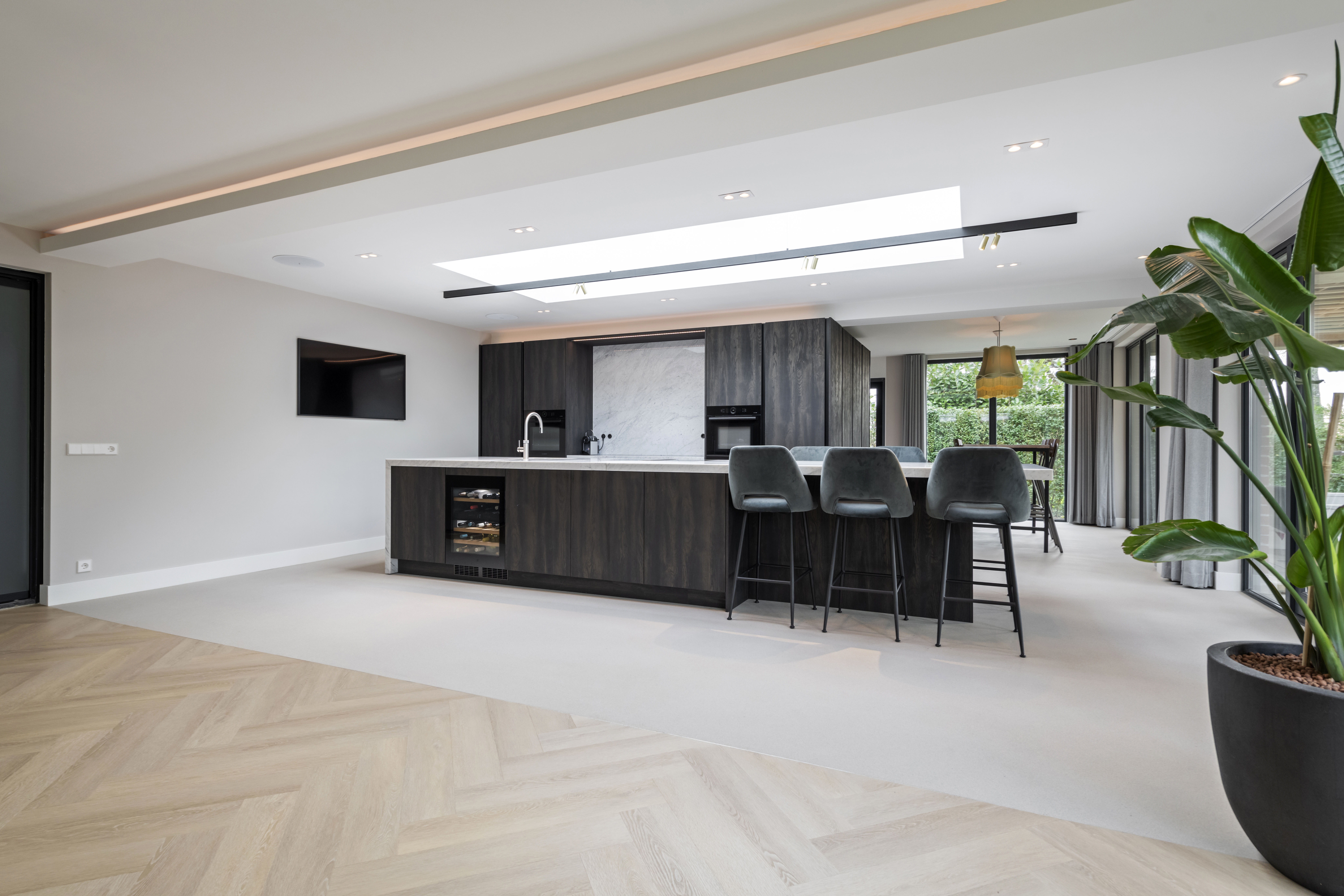 project: HOUSE x OM 
status: completed
program: residential 
design: MxM architecture + design
photography: Mark Verwey
NL  
Dit voormalig bedrijfspand is omgebouwd tot volwaardig woonhuis. Het ontwerp kenmerkt zich door licht, lange zichtlijnen en maximale ruimtelijkheid.
Er is een visueel grote open ruimte gecreëerd met het grote kookeiland als centraal punt. Het is een open geheel. Lange zichtlijnen over de volle breedte van de ruimte en richting de tuin zorgen voor een ruimtelijk gevoel. Door de kastenwand van de keuken te integreren met de bijkeuken in een houten volume ontstaat een functionele eye-catcher. Door het als volume in de ruimte te plaatsen met de constructieve balk als leidraad blijft de lange zichtlijn gehandhaafd.
Door middel van een grote lichtstraat boven het keukeneiland wordt de ruimtelijkheid versterkt. Ook dankzij grote raampartijen tot de vloer valt het daglicht nu diep de ruimte in. De zichtbare constructieve balken in het plafond worden geaccentueerd door een mooie lichtlijn, waardoor het relatief lage plafond toch hoog aanvoelt. Om in de grote open ruimte toch een soort scheiding te creëren is er voor twee type vloeren gekozen. Het ontstane overdekte terras kan als verlengstuk van de woonruimte gebruikt worden.
ENG
This former commercial building has been converted into a fully-fledged residential home. The design is characterized by light, long sightlines and maximum spaciousness.
 A visually large open space has been created with the large cooking island as the central point. Long sightlines over the full width of the room and towards the garden provide a spacious feeling. Integrating the wall of the kitchen with the utility room in a wooden volume creates a functional eye-catcher. By placing it as a volume in the room with the structural beam as a guideline, the long line of sight is maintained.
The spaciousness is enhanced by means of a large skylight above the kitchen island. Also thanks to large floor-to-ceiling windows, daylight now penetrates deep into the room. The visible structural beams in the ceiling are accentuated by a beautiful light line, which makes the relatively low ceiling still feel high. To create a kind of separation in the large open space, two types of floors were chosen. The resulting covered terrace can be used as an extension of the living area.