HOUSE  RENOVATION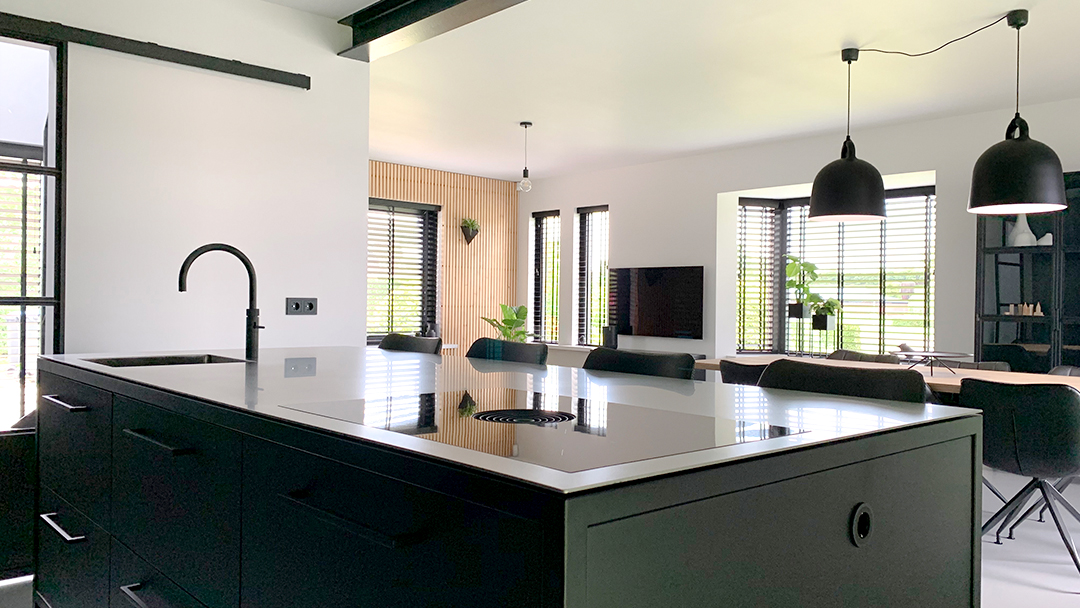 NL
Dit huis uit de jaren '90 heeft een transformatie ondergaan en is veranderd in een eigentijdse, moderne woning. Bestaande muren en openingen zijn gesloopt en verplaatst om een open indeling te creëren. De connectie tussen de woonkamer, eetkamer en keuken is geoptimaliseerd.
Een houten plantenwand brengt leven in huis en zorgt voor een warme sfeer. De wand is modulair opgebouwd, waardoor de plantenbakken op verschillende plekken aan de muur kunnen worden geplaatst. Dit zorgt voor een speels effect.
Het vrijstaande stalen kookeiland met een zwevend RVS aanrechtblad zorgt voor een gevoel van ruimtelijkheid. De keuken heeft een verborgen deur naar de bijkeuken.
De industriële elementen, zoals de stalen keuken en trap, de houten wand, gietvloer en de planten, vormen een mooi geheel dat harmonieus samenkomt.
ENG
This house from the '90s has undergone a transformation and has turned into a contemporary, modern home. Existing walls and openings have been demolished and relocated to create an open layout. The connection between the living room, dining room, and kitchen has been optimized.
A wooden plant wall brings life into the house and creates a warm atmosphere. The wall is modularly constructed, allowing the planters to be placed at different locations on the wall. This creates a playful effect.
The freestanding steel kitchen island with a floating stainless steel countertop provides a sense of spaciousness. The kitchen has a hidden door to the utility room.
The industrial elements, such as the steel kitchen and staircase, the wooden wall, concrete floor, and the plants, form a beautiful cohesive whole that harmoniously comes together.